Like most people, you probably have an old box spring sitting in your garage or basement for years. Maybe you have meant to get rid of it but don't know how.  Box springs are bulky and heavy, making them difficult to recycle or remove from your home. In cities, where many people choose not to have cars, it can be even more stressful to figure out how to dispose of a box spring when the time comes.
Our guide will explain the 6 ways how to dispose of box springs, with some options being more environmentally friendly than others. As long as they're disposed of properly and not illegally dumped. So if you're ready to say goodbye to your old box spring, keep reading!
Ways to Dispose of Box Spring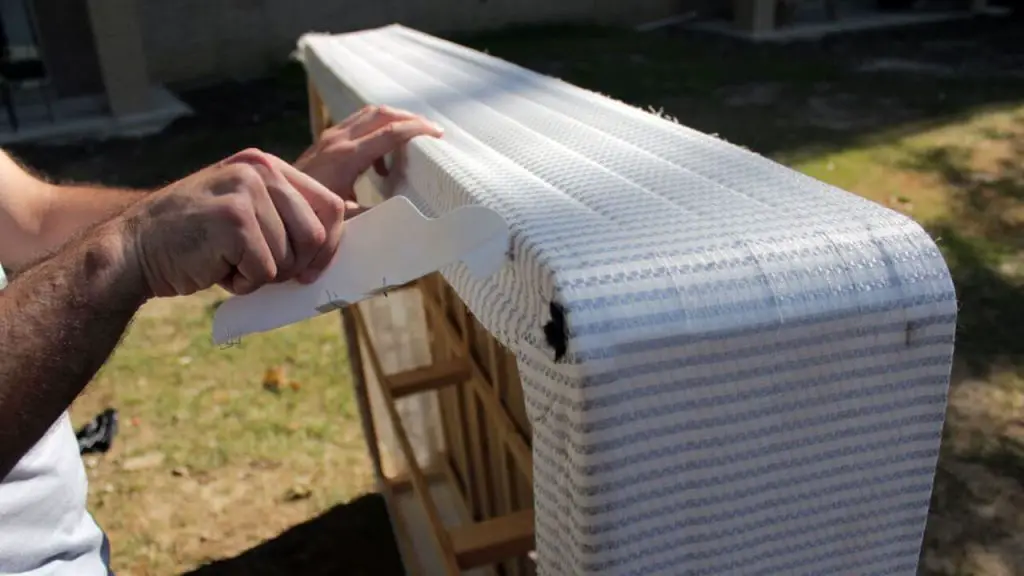 1. Call Your City Council and Check for Bulky Pickup Day
The pickup of bulky items, such as box springs, by your local trash and recycling collection, will depend on where you live. You might get lucky and find that your city council picks them up for you.
It is annoying when you go through the hassle of putting your box springs out for bulk item pickup, only to see it sitting in your driveway after the trash and recycling trucks have come by. If you don't want this to happen, check if your local municipality accepts box springs before trying to get rid of them.
2. Specify You Need Box Springs Removal
Always call ahead to see if a city or area will accept disposal items. If you want to know about box spring recycling facilities, it is best to specify that the thing is a mattress, even though it may seem unnecessary.
A friendly phone call could save you from a lot of trouble, so don't be discouraged if the answer is "no." If you get a "yes" answer and your trash/recycling company will take the box springs, make sure to ask: "Do I need to prepare the box springs in any way?"
STRONG, DEPENDABLE, AND READY IN NO TIME – As if its ultra-durable steel structure and convenient packaging weren't impressive enough, our original Smart BoxSpring has been given a quick-assembly upgrade
DURABLY ENGINEERED – Durable steel is used to construct the inside framework of this foundation; twin/twin xl sizes support a maximum weight capacity of 350 lbs, while all other sizes can support up to 700 lbs
EASIER THAN EVER ASSEMBLY – With fewer bolts and tool-free locking brackets for intuitive setup, assembly takes only minutes to complete.
3. Your City Council May Have Special Rules for Pickup
If you live in a place like New York City, you must cover your box springs with plastic before putting them outside. The good news is that you can use a box spring disposal bag to do this easily. Just remember that you might need to buy one first.
Even if you get a "yes" in response to your question, it is advisable to probe deeper to see if any other steps are required. You might have to make some effort, but it will be worth it when your old box springs finally disappear on trash day!
4. Drag the Box Springs To the Landfill Yourself
Visiting the landfill is hardly anyone's favorite way to spend their day, and for a good reason. It's not fun lugging around heavy old box springs only to have them sit in a truck until you get to the landfill. You might think taking your old mattress and box spring to the landfill is an option, but it is not the best choice.
Not only will you have to pay a fee to dispose of them, but it's also the wrong way to spend an afternoon. If possible, try looking for "box spring recycling near me" instead!
5. Recycle The Box Spring
Residents can take their box springs to a local mattress recycling facility. They will inspect your box spring and determine if it can be recycled, then charge a small fee for the services. Laborers will take the box spring apart, and all recyclable materials will be sorted accordingly.
These include foam, wood, polyester filling, etc. Specialty recyclers will come by to pick up these items so that nothing ends up in landfills needlessly.
Many people don't realize that recycling services exist for box springs. However, because too few individuals are aware of these options, numerous box springs end up in landfills or are abandoned illegally throughout Canada every year.
This act- illegal dumping- costs cities and residents thousands of dollars annually to clean up. Whether you recycle or landfill your old box spring, it is better than taking no action.
6. Box Spring Disposal Services
There are several ways to get rid of your box spring such as:
You can recycle your old box spring instead of throwing it away.
Donate, recycle, or upcycle your old box spring.
Book a large-item pickup if your city waste disposal services offer it.
Book a large item bin to recycle your old box springs.
Having an old box spring in your house can be annoying and an eyesore. Why not take the opportunity to eliminate it by hiring a junk removal company?
A mattress removal company will handle the job just as well.
Benefits of Disposing of Box Spring
Box springs are typically used as a supportive foundation for mattresses, but over time they can become worn out, damaged, or even infested with bed bugs. In such cases, it may be necessary to dispose of them. Here are some of the benefits of doing so:
Free up space: Box springs can take up a lot of space in your home, especially if you have multiple beds. Disposing of them can free up valuable storage space and make your living area more organized and spacious.
Reduce clutter: Removing box springs from your home can help reduce clutter and make your living space look more visually appealing. This can positively impact your mental well-being and create a more calming and relaxing environment.
Improve hygiene: Old or damaged box springs can accumulate dust, dirt, and other allergens over time, harming your health. Disposing of them can improve the hygiene of your home and create a healthier living environment for you and your family.
Environmentally friendly: If you responsibly dispose of your box springs, they can be recycled and turned into new products. This helps reduce waste and can have a positive impact on the environment.
Save money: By disposing of your old box springs, you can make room for new, more comfortable, supportive bedding options. This can lead to better sleep quality, improved physical health, and reduced medical expenses in the long run.
Disposing of box springs can have numerous benefits, from improving the hygiene and appearance of your home to creating a more environmentally sustainable lifestyle.
Do's and Don'ts of Disposing of a Box Spring
Do's:
Do check with your local waste management service or recycling center to see their policies and regulations for disposing of a box spring.
Consider donating or selling your box spring if it is still in good condition and can be reused.
Disassemble your box spring if possible to make it easier to transport and dispose of.
Use a proper vehicle, such as a pickup truck or van, to transport the box spring to the recycling center or waste management facility.
Do properly dispose of any bed bug-infested box spring to prevent the spread of bed bugs to others.
Don'ts:
Leave your box spring on the curb or in the alley for a short time, as this may violate local regulations and create an eyesore in the neighborhood.
Don't attempt to burn or dispose of your box spring in an unapproved manner, as this can be a fire hazard and harmful to the environment.
Don't dispose of your box spring in a landfill or dumpsite, as this can contribute to environmental pollution.
Refrain from overloading your vehicle with too many box springs or other bulky items, which can be unsafe and lead to accidents.
Refrain from assuming that all waste management services or recycling centers will accept box springs, as some may have specific regulations or requirements that need to be met.
By following these do's and don'ts, you can ensure the safe and proper disposal of your box spring while adhering to local regulations and protecting the environment.
The Bottom Line
We all know how difficult it can be to get rid of old furniture. Box springs, in particular, are a pain to deal with because they're usually so large and bulky. If you're stuck trying to figure out how to dispose of box springs, we hope this article has given you some ideas. Whatever route you choose, ensure your old box spring ends up where it's supposed to! Thanks for reading.
FAQs
Can you break down a box spring?
First, take your hand saw and cut the spring wood frame in half. Once that is done, you can break it down into smaller, manageable pieces. Always be wary of any chips or debris from the wood.
If there are any metal or extra wooden Mobilize Rentals pieces, go ahead and remove them as well–you won't need them anymore! Furthermore, transport the newly made smaller pieces to a recycling center or scrap yard nearest you to get rid of all unwanted waste material.
Should I get rid of my box spring?
Even though all mattresses need a supportive foundation, certain models don't require box springs. Using a box spring can cause permanent damage to some types of mattresses.
If you're looking for an alternative to box springs, consider platform beds or wood slat foundations.
Can you burn a mattress and box spring?
Burning a mattress and box spring is not recommended as it can release harmful toxins into the air and create a fire hazard. It is also illegal in many areas.
What happens if you don't use a box spring on a bed?
Without a box spring, a mattress may not be supported properly and may sag or wear out more quickly. Additionally, not using a box spring may void the warranty on some mattresses.
Additional Contents