As an Amazon Associate I earn from qualifying purchases.
Just like computers, printers in homes and businesses will age over time regardless of how frequently they are used. With a new printer often comes the question of what to do with the old one. Don't default to throwing it away.
There are many alternatives that won't damage the environment. This blog post will discuss the best ways how to dispose of old printer.
Understanding the Importance of Safe Disposal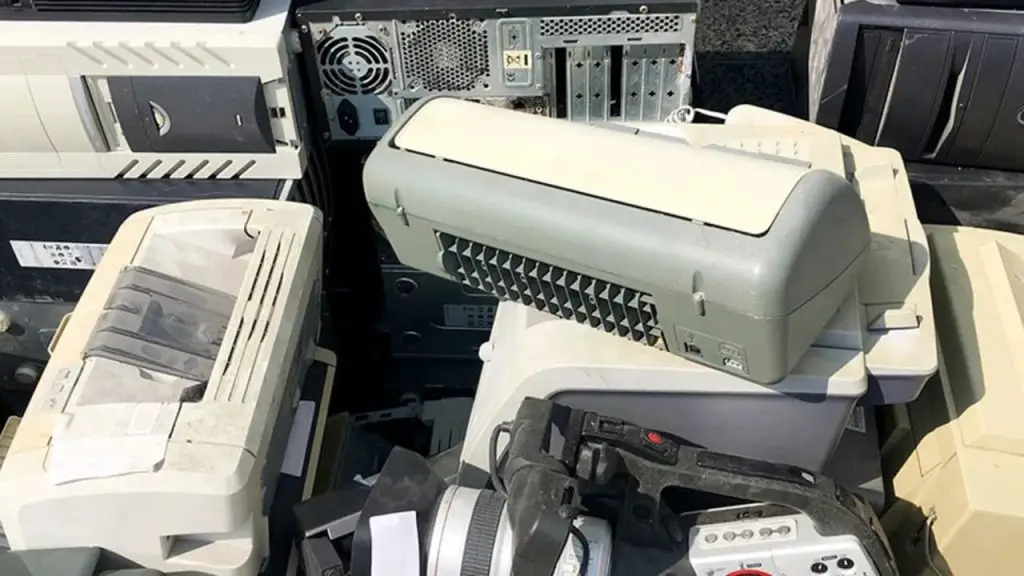 Many states have strict dumping laws for printers because they contain a handful of toxic chemicals in the ink and toner cartridges. The plastic housing, printed circuits, and other components threaten the environment.
Business News Daily states that many huge corporations have been fined over the years for not properly learning how to dispose of printers. Reusable parts are often found inside regular printers. As our planet grapples with climate change, even your business's smallest changes can positively impact you.
How to Dispose of Old Printer?
1. Break it Apart
Outdated and slow printers are not necessarily broken. They can be used as parts sources. Many businesses use the same printer model, meaning some are probably still in working order. If a unit breaks down and you'd like to keep it, swap out the bad part(s) for good ones from "trashed" printers. Within their construction, most printers have a PCB or printed circuit board.
If the machine continually malfunctions, swap the old one for a new one. You can work well without trashing the parts in the end. By taking this approach, you will be able to use most of your old printer's parts. Therefore, won't have to dispose of them all at once.
2. Recycle Old Printers
It is always best to recycle an old printer rather than dispose of it in the trash. You can take your outdated computer peripherals, like printers and scanners, to your local recycling center to recycle them properly. Some centers may charge a small fee.
They will reuse and repurpose every part of your equipment so that nothing goes to waste. Many of the materials are used in new products across various industries.
3. Donate it
If you don't want to keep your printer, donating it to charity is another option. You can get a tax write-off for your income taxes this way. Ask a local charity about their needs for computer peripherals first.
Some facilities collect, repair, and redistribute printers like yours to nonprofits and other institutions in return for donations. This way, your old printer won't take up valuable space in a landfill. You will be contributing to a good cause too!
4. Selling Old Printer
The Department of Environmental Protection in Pennsylvania urges individuals not to dispose of their printers with the regular trash. Instead of just letting them pile up in a storage room, see if another company or person might have use for it. Furthermore, you could generate a little revenue by selling your old printer. It will also help out someone who may not be as fortunate as you!
According to the European Printing Ink Association, unsafe disposal of printers has disastrous effects on our environment. Protocols are key when it comes to asset management, especially in businesses. The best way to remove an item from service is by recycling or reusing it. Your new printers will be up and running momentarily!
Tips for Getting Rid of Your Printer
Before you dispose of your old printer, there are a few safety measures to protect yourself and your information. Follow these tips:
Wireless printers and Wi-Fi routers can store email addresses or network information. To stop this data from getting into the wrong person's hands, reset your printer back to its factory settings.
Before you dispose of your printer, double-check that there are no memory cards or flash drives inside it. Many printers have slots for these removable forms of storage.
Before leaving for the day, check that no documents or paper are accidentally left inside the printer. Especially important for scanner/printer combinations.
Cities have recycling rules regarding old printers. States vary on what you can throw away in the regular trash, so check to see if your city has any ordinances against it before getting rid of your device. Avoiding recycling fines will come down to knowing the law and following it, simple as that.
Key Features to Look a New Printer
This list below provides some common features to consider when you purchase a new printer:
Scanners are a quick way to get images from physical documents onto your computer.
Fax machines can send full documents to other devices around the world.
Displays on the printer can help with setup and make it as easy to use as possible.
Upfront, a printer may not be the most costly item. However, repeatedly buying new ink cartridges drives up the price over time. So when considering which device to purchase, think about how much you will have to spend on replacement ink and factor that into your decision.
With some of the newer printers, you can connect to social media and print out pictures or posts without first downloading them.
High-speed printers are vital if you need to print a high volume of documents. A machine with a fast printing speed will save you time in the long run.
The duty cycle of a printer refers to how many pages should be printed per month. Exercise caution when printing; going over the monthly limit could damage your machine permanently. Due to regular use, duty cycles for office printers are often higher than for home devices.
Designed for demanding workplaces, the Color LaserJet Pro MFP M283cdw Printer from HP offers printing, scanning, copying, and faxing functions to fulfill your business and imaging needs.
For sharp and detailed text, the unit offers an impressive 600 x 600 dpi print resolution, and print speeds are as fast as 22 ppm while supporting media sizes up to 8.5 x 14″. The printer comes equipped with a 260-sheet paper tray, a 50-sheet ADF for scanning and copying, and a 150-sheet output bin for holding finished jobs.
The Bottom Line
Throwing away a printer is not only wasteful, but it could also be illegal, depending on where you live. Properly disposing of your old machine is easy, and there are many ways that you can help someone else in the process.
If your device is still in good condition, you could even resell it and make some money towards a new printer or other technology. Do not let your old printers sit around gathering dust or take up space in a landfill. They make the most out of recycling, donating, or selling them.
FAQs
Does an HP printer keep a history of what is printed?
The My Printers window contains a button called ePrint History. Once you click it, your printer's print history queue pops up. All items in the print history expire 30 days after they arrive. If you download, share or reprint any files from the list, those particular files remain in history for another 30 days.
What should you remove from a printer before disposal?
Before removing your old printer, remove any SD cards, USBs, or other removable memory devices, remove the print cartridges and disconnect any cables. Lastly, unplug the power cord.
Additional Contents
Amazon and the Amazon logo are trademarks of Amazon.com, Inc, or its affiliates.