When we're finished with our Styrofoam packaging, we generally either throw it in the trash or in the recycling bin – but is either correct?
Styrofoam is actually a trademarked brand by The Dow Chemical Company and is a closed-cell extruded polystyrene foam (XPS). This is different from Expanded Polystyrene Foam (EPS), which is what is used for food and beverage containers.
In this article, we will refer to both as Styrofoam for simplicity's sake as we discuss how to properly dispose of these incredibly common insulators!
Can You Throw Styrofoam in the Trash?
As you may have guessed, Styrofoam is not biodegradable – therefore, it should not be thrown in the trash.
Recycling or reusing Styrofoam is the much safer option for a substance that is non -biodegradable so that it doesn't end up in a landfill and further damage the environment. 
AirSeaContainers.com explains why you should not dispose of Styrofoam by throwing it in the trash:

"On a global scale, over 14 million tons of Styrofoam are produced annually. A significant portion of this is disposed of as waste. For shippers and consumers, the most apparent solution to disposing of Styrofoam is to throw it away.

However, this is not an environmentally friendly approach because Styrofoam packaging is not biodegradable. Instead, recycling or reusing are much better options.The National Toxicology Program has flagged the chemical styrene as a possible carcinogen.

The decomposition process could release toxins that can damage the earth's ecosystems and which make it unsafe to dispose of by burning."
5 EFFECTIVE WAYS TO DISPOSE OF STYROFOAM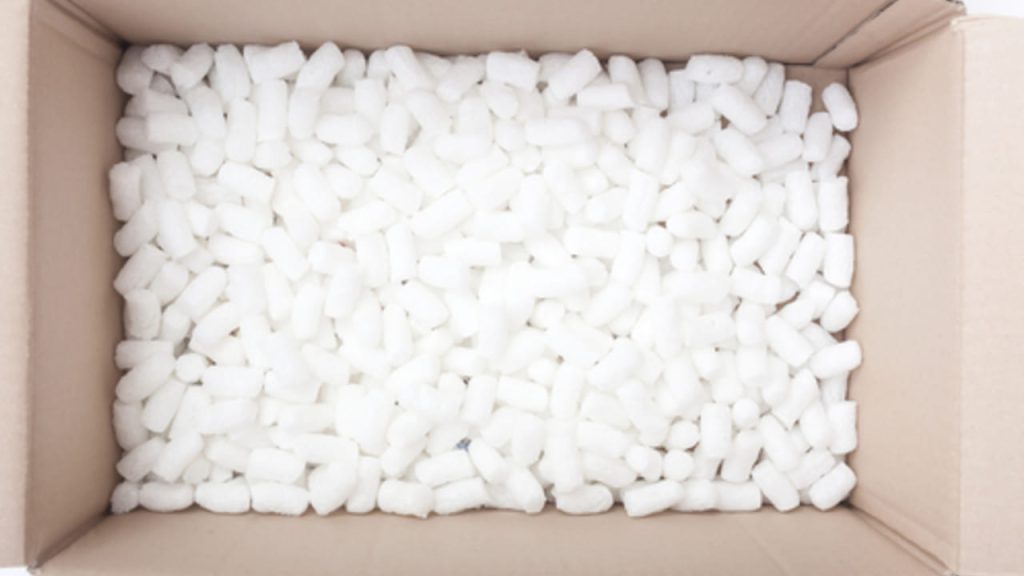 1. Check If It's Recyclable
The first step in disposing of Styrofoam is to check if it's recyclable in your area. While Styrofoam can be recycled, not all recycling facilities accept it due to its difficulty in processing.
Styrofoam takes up a lot of space and can easily break apart during transportation, which makes it a challenge for recycling facilities to handle.
If your local recycling facility accepts Styrofoam, follow their specific guidelines for preparing it for recycling.
Most facilities require Styrofoam to be clean and free of stickers, tape, or other materials. Some facilities may also need the Styrofoam separated by color or density.
If your local recycling facility does not accept Styrofoam, you can still dispose of it properly by packing it for drop-off. Many cities have particular collection sites for Styrofoam, where it can be processed and recycled.
Pack the Styrofoam in a sturdy, sealed container to prevent it from breaking apart during transportation.
Finding Our Green Life tells us how to locate a facility that will accept your used Styrofoam:

"There are many facilities where you can drop off styrofoam, you just have to find them.

Some grocery stores, like Publix, have a styrofoam collection receptacle where you can deposit things like cups, meat trays and food take out containers.

Just make sure you prepare them properly. For packing peanuts, you can usually take those to a mailing center like UPS or PakMail.

Call ahead to double-check. Just make sure you pull out a few to use as toe separators for your next at-home pedicure!"
2. Pack It Up for Drop-Off
When packing up Styrofoam for drop-off, it's essential to ensure it is clean and contaminant-free. Most drop-off locations require Styrofoam to be free of stickers, tape, and other materials that can't be recycled.
Packing the Styrofoam in a sturdy container is also important to prevent it from breaking apart during transportation.
Some drop-off locations may require Styrofoam to be separated by color or density, so check with the facility before dropping off your Styrofoam.
3. Reuse It
Another way to dispose of Styrofoam is to reuse it. While Styrofoam is not biodegradable, it can be used multiple times before it needs to be disposed of.
Consider using Styrofoam packaging as insulation for your home or workshop or donating it to a local organization that can repurpose it.
Many organizations use Styrofoam as padding for shipping fragile items or as insulation for outdoor structures.
Some craft stores may also accept Styrofoam for use in art projects. Before disposing of your Styrofoam, consider whether local organizations could use it.
Stanford Magazine explains how to donate your used Styrofoam:

"Go to Earth911.com, type in "polystyrene" and your zip code, and it will tell you where your closest drop-off site is.

The Alliance of Foam Packaging Recyclers (AFPR) has a list of centers that will accept your excess EPS via mail.

Admittedly, either of these options will cost you money in gas or shipping (up to $9 for shipping according to AFPR), but the EPS will be recycled into office supplies or insulation instead of being dumped into a landfill."
4. Don't Burn It
Under no circumstances should you burn Styrofoam. When burned, Styrofoam releases harmful chemicals into the air, including carbon monoxide and styrene.
These chemicals can have serious health consequences and contribute to air pollution. Burning Styrofoam is illegal in most places and can result in fines or legal action.
5. Look for Alternatives
To minimize your use of Styrofoam in the first place, consider looking for alternatives. Many companies now offer biodegradable packaging materials that are more environmentally friendly.
These materials include paper-based products, cornstarch-based products, and mushroom-based products.
If you must use Styrofoam, try to reuse it as much as possible and dispose of it properly when it's no longer usable.
It's important to remember that Styrofoam is not biodegradable and will not break down in the environment, so it's crucial to dispose of it properly to minimize its impact on the planet.
By following these tips, you can ensure that you properly dispose of Styrofoam and do your part to protect the environment.
Benefits of Disposing of Styrofoam
Once upon a time, a small town was plagued by an overabundance of Styrofoam waste. The town's residents didn't know what to do with it, and it seemed like it was piling everywhere.
They knew Styrofoam was wrong for the environment but didn't understand the benefits of properly disposing of it.
One day, a wise older woman came to the town and spoke to the residents about the benefits of disposing of Styrofoam in an environmentally responsible manner.
She explained that Styrofoam is made of petroleum and takes hundreds of years to decompose in the environment.
It releases harmful chemicals when burned and takes up valuable space in landfills. But, when disposed of properly, Styrofoam can positively impact the environment.
The wise older woman told the residents about the benefits of recycling Styrofoam. She explained that when Styrofoam is recycled, it can be made into new products like picture frames, rulers, and even surfboards.
This means fewer natural resources are needed to create new products, and less waste is in landfills.
She also explained that reusing Styrofoam is another way to dispose of it properly. Styrofoam packaging can be used as insulation in homes, and many organizations use it as padding for shipping fragile items. By reusing Styrofoam, we can reduce the amount of waste in landfills.
The wise older adult also discussed the importance of looking for alternatives to Styrofoam. She explained that many environmentally friendly packaging materials are available, such as paper-based, cornstarch-based, and mushroom-based products.
By choosing these alternatives, we can reduce our reliance on Styrofoam and minimize our environmental impact.
The town's residents listened intently to the wise older woman's advice and began to act. They started recycling their Styrofoam and reusing it whenever possible.
They also looked for alternatives to Styrofoam and supported local businesses that used environmentally friendly packaging materials.
Over time, the town began to see the benefits of disposing of Styrofoam properly. The waste in landfills decreased, and the city became cleaner and more beautiful.
The residents were proud of their efforts to protect the environment and knew they positively impacted the world.
And so, the wise older woman left the town knowing she had made a difference. She smiled as she walked away, knowing the residents would continue protecting the environment and inspiring others to do the same.
The Bottom Line
Styrofoam is a widely used plastic material that poses significant environmental challenges. Its non-biodegradability and difficulty in recycling make it essential to learn how to dispose of it properly.
By following the steps outlined in this article, you can ensure that your Styrofoam waste is disposed of in an environmentally responsible manner.
Remember to check if Styrofoam is recyclable in your area, pack it up for drop-off, reuse it, and look for alternatives to minimize its use.
Doing so can positively impact the environment and help reduce the harmful effects of Styrofoam waste.
FAQs
Is there a way to break down Styrofoam?
Yes, solvents like acetone can break down Styrofoam, repurposing it as an adhesive. This alternative can prevent Styrofoam from filling landfills and provide a good bond.
Does Styrofoam decompose in a landfill?
No, Styrofoam does not decompose in a landfill. It can take hundreds of years to break down, and it releases harmful chemicals into the environment during this time.
What happens to Styrofoam when it gets wet?
Styrofoam absorbs water and becomes heavy when wet. It can also break down into smaller pieces, making it more difficult to dispose of and potentially harmful to wildlife if ingested.
Additional Posts: