As an Amazon Associate I earn from qualifying purchases.
Many of us have old videotapes taking up space in our homes. While you may not watch them anymore, recycling them is a great way to give them a new life and keep them out of landfill sites.
Here's how to recycle your unwanted video tapes.
Ways to Recycle Video Tapes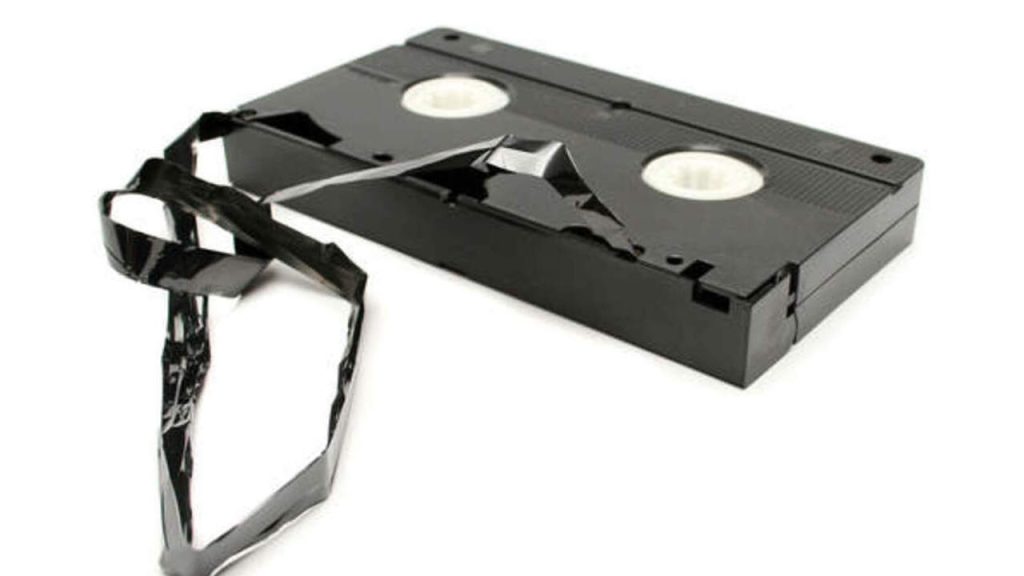 Gather All of Your Old Video Tapes Together in one Place
Once upon a time, capturing special moments with friends and family was done on VHS tapes. While digital media has taken over the world since then, access to those golden memories is still important.
Gather your old video tapes in one easy-to-find place to ensure they are recovered and intact. But also ensure that future generations can reflect on the days gone by.
Convert your old tapes, if you can, so that all of your most precious memories are kept for years to come. They should be treated like the treasure that they are.
The organization is key when it comes to VHS tapes. Group your tapes by year, occasion, or title, and mark them clearly with a label maker or sharpie.
This will make finding the specific clips you want to watch much easier if you want to revisit them.
Find a Local Recycling Center
Finding a local recycling center that accepts electronic waste is essential in ensuring hazardous and potentially toxic materials don't make their way into landfills.
Many communities across the country have businesses and organizations committed to environmentally-responsible practices, including handling e-waste.
To help find a local center, you can start with a quick internet search to find nearby recycling options.
If you feel comfortable doing so, consider visiting your municipal landfill or transfer station; they may be able to direct you to the right location.
It is important to remember that taking responsibility for properly disposing of e-waste is critical in protecting our planet's future health.
Take Your Video Tapes to the Recycling Center
Taking your old video tapes to the recycling center is an easy way to ensure they don't go to waste. After decades of watching VHS tapes, many of us have drawers full of them sitting unused.
Instead of just throwing them away, recycling your tapes is a great idea, as it will ensure they are broken down and reused in a manner that disrupts the environment as little as possible.
Taking them to a local recycling center ensures that your tapes won't become landfills or contribute to ocean pollution.
So if you find yourself with an ever-growing collection of new video tapes gathering dust at home, visit the nearest recycle center. You will be doing everyone a favor!
Try Looking for an Online Recycling Service
Physical recycling centers are often hard to come by, but there is another option: online recycling services! Using one of these, you can easily dispose of all sorts of items in the comfort of your home.
Many services offer curbside pickup for larger items and drop-off boxes for smaller materials. Businesses and organizations also often have access to other services, such as mail-in box subscriptions and bulk material waste solutions. 
With many options available, finding a service that works best for your needs is easier than ever.
Not only is using an online recycling service more convenient, but it also reduces your ecological footprint and helps support sustainable practices.
Find Out How to Recycle Your Video Tapes
Recycling old video tapes is an effective way to help the environment and prevent further waste. It can also be a great opportunity to clean out your attic or basement if you have a bunch of tapes that you last watched in ages!
You can find out which places accept videotapes to be recycled rather than thrown away. This process ensures that all hazardous materials are disposed of safely and responsibly, protecting the planet and your loved ones. So don't delay – recycle your tapes today!
Make Sure to Dispose of any other Electronic Waste Properly
One of the most important steps in being environmentally conscious is properly disposing of electronic waste.
If you have already recycled your old videotapes, taking the additional step to eliminate any other electronic waste responsibly is incredibly easy to make a huge difference for the planet.
Not everyone may know this, but you can throw not all electronic components away.
Some materials from technology can cause contamination and are highly hazardous if not composted correctly.
Doing this could help reduce the number of toxic pollutants in landfills and help protect our beautiful environment from further harm.
So next time you need to get rid of electronics, do your part by ensuring it's done safely and properly!
As you can see, recycling your old video tapes is quite easy! And it's important to do our part in disposing of electronic waste properly.
By following these simple steps, you can help make a difference in the environment and keep harmful toxins out of the ground and water supply.
Thanks for taking the time to recycle your old video tapes – and remember to recycle any other electronic waste as well!
The Bottom Line
Recycling your old video tapes is a great way to help the environment and prevent further waste. By taking them to a local recycling center or an online service, you can be sure they will be broken down and reused in the most eco-friendly way possible.
This process also ensures that all hazardous materials are disposed of safely and responsibly, protecting the planet and our loved ones.
Together, we can make a difference in the environment and help create a brighter future for everyone.
FAQs
Can I put video tapes in the bin?
You should responsibly dispose of video tapes after use rather than toss them into any recycling bin.
Do charity shops still take VHS videos?
Before bringing your VHS tapes and cassettes to a Recycling Centre, you must check with the local authority as their services are variable throughout the nation. Unfortunately, these items are rarely accepted at Recycling Centres or charity shops anymore and tend to be disposed of in landfills.
Additional Contents
Amazon and the Amazon logo are trademarks of Amazon.com, Inc, or its affiliates.