As an Amazon Associate I earn from qualifying purchases.
With the inability to dine in at restaurants for much of the past year, takeout food has become commonplace in many households. This little treat can feel like a much-needed break from all the time you're spending cooking at home, as we've all experienced being stuck in the same daily routine for weeks on end. However, with the purchase of delicious takeout food comes an array of packaging that is most often not great for the environment. So how do you correctly dispose of all the many different types of takeout packaging? In this article, we take a look at how to dispose of packaging for takeout meals, and whether or not it's recyclable. 
Foam Containers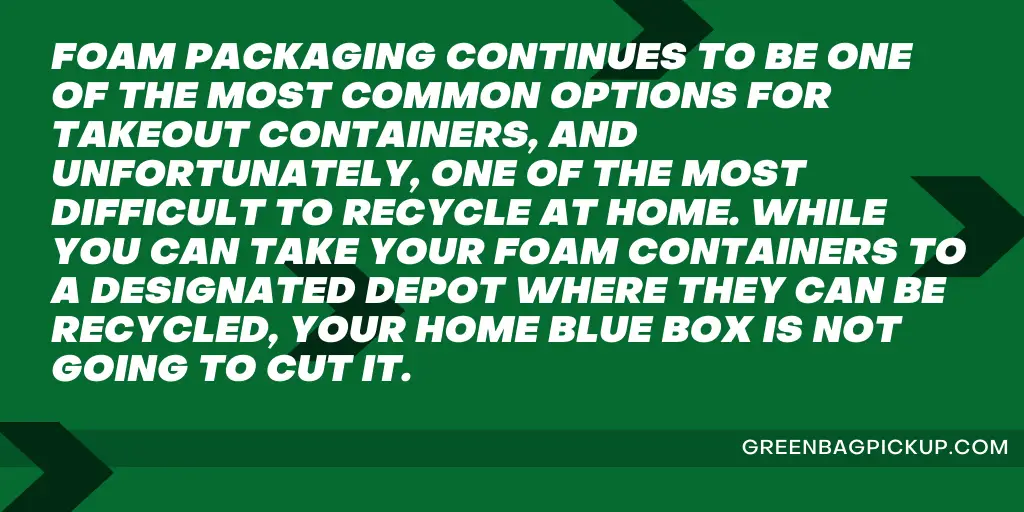 Foam packaging continues to be one of the most common options for takeout containers, and unfortunately, one of the most difficult to recycle at home. While you can take your foam containers to a designated depot where they can be recycled, your home blue box is not going to cut it.
Recycle BC explains how to correctly recycle foam containers:

"If your favourite take-out establishment uses foam packaging, foam can be recycled at a recycling depot. Even if you've emptied and rinsed the container so it looks brand new, please do not put it in your home recycling bins. Foam breaks and crumbles easily and is difficult to separate from other recyclables. This causes contamination and affects the recyclability of the rest of your blue box. The upside is that foam is very lightweight and easy to store (stack the pieces!) so you can save them up for your next depot trip."
Paper or Cardboard Containers and Clamshells
Another highly popular vessel for your takeout treats is paper or cardboard containers, as well as clamshells. Luckily, these containers can often be recycled, and are not as harmful to the environment as other types of packaging if they must be disposed of another way. Be sure to check the individual containers for an indication that they can be recycled.
Chowhound tells us more on when these types of packaging can be safely recycled:

"These are often made from recycled materials and can be recycled themselves. Some are even biodegradable and compostable as long as they are thoroughly cleaned and haven't soaked up any grease. Even ones that aren't recyclable are far less toxic than plastic or Styrofoam when being processed, burned, or buried."
Plastic Bags
It's rare that you won't receive at least one plastic bag with any takeout order. There are several ways that you can repurpose and reuse these plastic bags at home, including using them as trash can liners and in household crafts. However, if you wish to dispose of them, you won't be able to in your usual household recycling.
Elizabeth Schussler, senior director of social change, behavior, and impact at The Recycling Partnership explains what to do with those plastic bags your takeout will inevitably come in at HuffPost:

"As for the plastic bags your takeout comes in, you'll have to turn to special recycling programs at grocery stores and other establishments. "Clean, empty plastic bags don't belong in household recycling," Schussler said. "But they can be taken to store take-back programs so they can be made into new bags, plastic lumber or decking, etc."
We offer a wide variety of waste disposal options, including how to safely recycle common takeout packaging, with services readily available online. Reach out to us to see what we can offer you.
Amazon and the Amazon logo are trademarks of Amazon.com, Inc, or its affiliates.