As an Amazon Associate I earn from qualifying purchases.
You've likely discarded unused medicine in the bin many times, without a second thought. Whether you just don't need it anymore or it has expired, why wouldn't you throw it in the trash? Unfortunately, throwing unused medicine in the trash may have way more of a negative impact than you could have imagined. Let's take a look at how to properly dispose of unused medicine, so you can have a better idea of how to avoid this.
Why Is It Important to Properly Dispose of Unused Medications?
Did you know that improperly disposing of unused medicine can have severe environmental consequences? And unfortunately, flushing them down in the toilet like you've seen in the movies is not an option either.
My HealtheVet expands on this on myhealth.va.gov: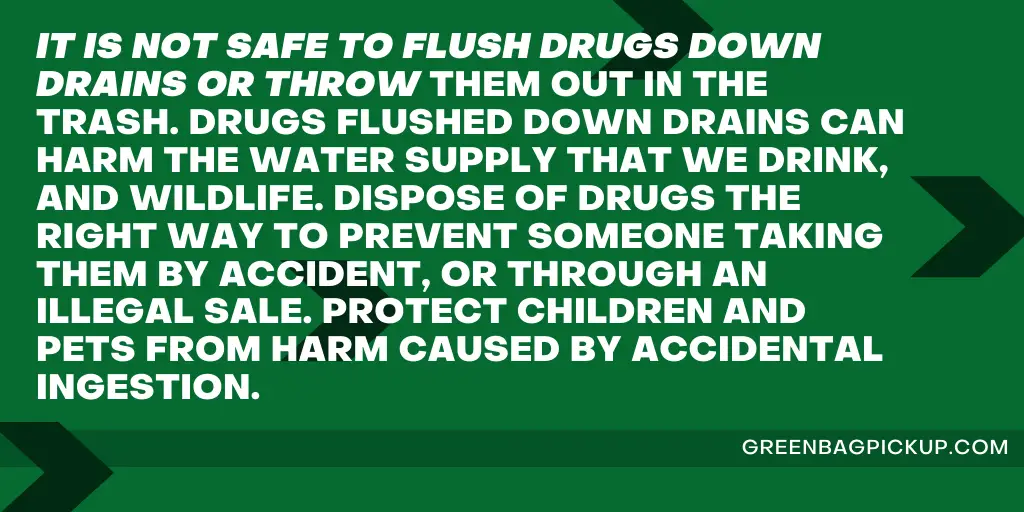 Drug Take Back Programs
If you're looking for a way to properly dispose of unused/expired medicine, you may want to consider a drug take back program. Of course, you will need to do the research to locate one in your area, but this is a sure way to make sure that your unused medicine is going to the right place.
The United States EPA explains what a drug take back program is:

"To dispose of prescription and over-the-counter drugs, call your city or county government's household trash and recycling service and ask if a drug take-back program is available in your community. Some counties hold household hazardous waste collection days, where prescription and over-the-counter drugs are accepted at a central location for proper disposal."
Permanent Collection Sites and Locations
There are permanent collection sites and locations where you can always drop off your unused medication. These are permanent designated locations unlike drug take back programs, which only run on an occasional/once in a while basis.
The U.S. Food and Drug Administration tells us more about what these are:

"Some facilities and business are registered with the U.S. Drug Enforcement Administration (DEA) to collect old, unused, unneeded, or expired medicines. These authorized drug collection locations safely and securely gather and dispose of pharmaceuticals containing controlled substances, as well as other medicines. In your community, such authorized collection locations may be in retail pharmacies, hospital or clinic pharmacies, and law enforcement agencies/ facilities. Some authorized collectors may also offer mail back programs or collection receptacles (drop off boxes) to assist you in safely disposing of your unused medicines."
Sometimes we don't have the time to locate one of these designated locations or perhaps there is no such thing in your area. GREENBAGPICKUP.COM will not only pick up all dumpster bags, but make sure that everything inside of them is responsibly disposed of.
We know and understand your community's regulations and will work with them in order to make sure we are recycling your no longer needed items in the most eco-friendly way possible. Check out what we're all about here.
Amazon and the Amazon logo are trademarks of Amazon.com, Inc, or its affiliates.