License plates may seem like a mundane part of driving, but they are actually required by law in most states. When it's time to dispose of your license plate, make sure you do so in the proper way. Not doing so can lead to a number of problems, such as identity theft or fraud. In this post, we'll outline the proper ways how to dispose of license plate and keep your information safe.
What are License Plates Made Of?
Products made of aluminum, such as license plates, are easy to recycle because manufacturers can melt the metal down and cast it into new items. Hundreds of products are made of aluminum — from silverware to cars. Not only is recycling good for the environment, but producers estimate they can reduce their carbon emissions by 95% when they use recycled aluminum in their products. 
How to Dispose of License Plate?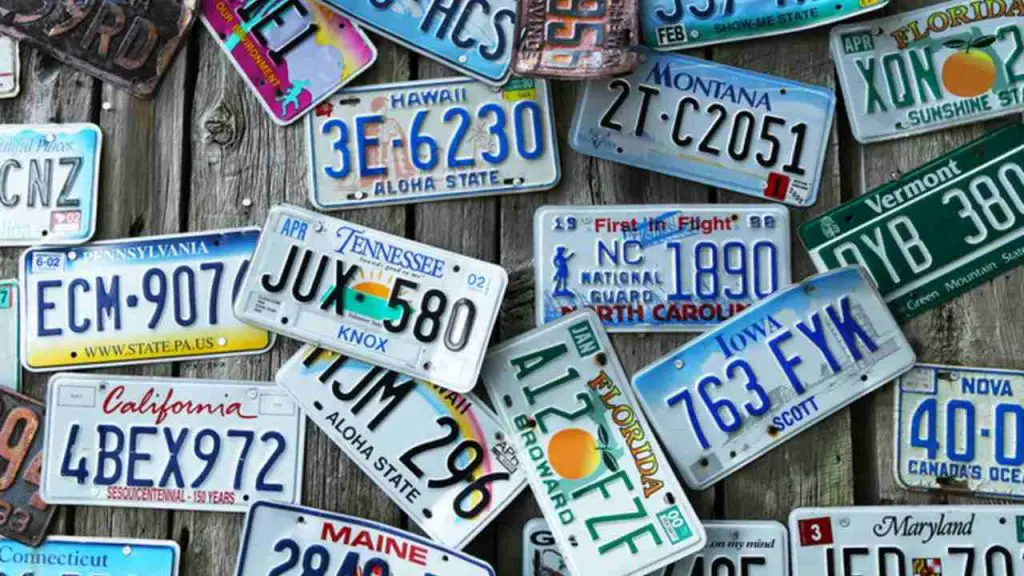 1. Deface or Remove the Stickers
Before you cancel your registration, you'll need to ensure the license plates are unusable. If they're not, and someone stole them, any crimes committed with that vehicle will be traced back to you.
Permanent markers or sharp objects can be used to write on or scratch off the decals on the plates, preventing them from being used. Peeling off the stickers is tricky but more effective than simply reporting them.
2. Cut or Bend the Plates Out of Shape
Newer license plates are lightweight aluminum- meaning you can usually bend the metal. However, if that's too difficult for you, tin snips will do the job just as efficiently.
On the other hand, older license plate models are created with iron and galvanized steel. More force is required, such as a hammer or pliers. And finally, once they're either bent or cut up, you have two options: recycle them or throw them in the trash!
3. Scrap and Recycling Options
Before recycling your old aluminum license plate, check with your local DMV because some cities have different requirements for particular types of plates. Also, note that in Washington state, you can only recycle disability plates and veteran's licenses through the Material Recycling Facility via email instead of taking them to a vehicle licensing office.
However, a final other option would be to contact a scrap metal dealer near you- often, they'll give cash on the spot for any Plate!
4. Return Your Plates to the DMV
If you don't want to deal with the hassle, the simplest solution is to turn in your old license plates to your nearest Department of Motor Vehicles. The DMV will destroy or recycle them for you. Most states require that you either bring the plates in person or mail them to the address found on their website. Some counties might charge a small fee for processing.
License Plates as Collector's Items
Many people collect license plates as a hobby and are willing to pay money for certain types of plates. While rare and older license plates sell for the most money, it is also possible to sell more modern plates. Some collectors focus on gathering a plate from every county in a state. Artists may need plates with specific colors for projects.
Local antique stores are a great start when getting rid of old license plates. eBay is always an option if you want to make some money off them; however, be aware that new license plates cannot be sold on the site. If you have newer ones that you want to dispose of, try giving them away to friends or see if any local artists or collectors would be interested in adding them to their collection.
License Plates For Craft Projects
With creativity, old license plates can be used for various interesting projects. For example, many people have repurposed them into purses, but a quick look on Pinterest shows that they can also be made into wall art, birdhouses, and journals. Another fun idea is to cut the numbers and letters out of license plates and use them to create signs, clocks, or keychains. 
They would have the fun, funky appearance of being collaged together. Please be careful when handling cut-up license plates, as their metal edges will be sharp. Also, remember that license plates can make great artwork–vintage ones especially. For example, Aaron Foster creates great wall hangings from vintage plates. 
Some Additional Tips
If you live in a state that issues license plates, your vehicle licensing department should have detailed recommendations on how to recycle them. Drivers have a variety of alternatives from which to choose:
The only downfall to returning your old license plates in person is the inevitable long wait time at the counter. However, we all know how fun and exciting the DMV can be!
Send them to a vehicle licensing office. Each state should have a website mailing address for returning old license plates.
You can recycle aluminum license plates by placing them in an aluminum recycling bin at your local center. If you go this route, remove all month and year decals from the plate and destroy it by bending it, scratching it up, or cutting it into pieces. Stolen valid license plates are sometimes used on cars for criminal activity. If this happens, the police will contact you if a crime is committed with that vehicle.
You may deposit old aluminum license plates in certain cities in your garbage can. However, these initiatives are uncommon, so inquire with your local recycling firm before putting them in your bin. Check with your state licensing office to see if there are any restrictions on specific plate types.
Only veterans and persons with disabilities can recycle their license plates by bringing them to a vehicle licensing center in Washington state. License plates may be recycled in the usual manner using the techniques mentioned above.
Final Words
So, there are a few different ways that you can choose to dispose of your license plate once you are finished with it. You can recycle it, return it to the DMV, or sell it to a collector. Each option has its benefits and drawbacks, so be sure to choose the one that is right for you. 
FAQs
What should I do with old number plates?
Most local recycling centers will take your old plates if you replace them with new ones. Number plaques are polycarbonate and may be recycled with other plastic products. If you're unsure where to put them, inquire about this at the facility's staff.
How do I surrender my license plate?
License plates can be returned in person, in a drop box at the service center or by mail.
Additional Contents