As an Amazon Associate I earn from qualifying purchases.
Most lawn mowers will last about 10 years, depending on the climate you live in, how often you use them, and, of course, the size of your lawn. But what happens when your lawn mower finally bites the dust or you simply find yourself with a model you no longer need? Even though the task of disposing of a broken lawn mower may seem inconvenient, there are several ways to easily dispose of one. Keep reading to find out more!
Have it picked up by a waste hauler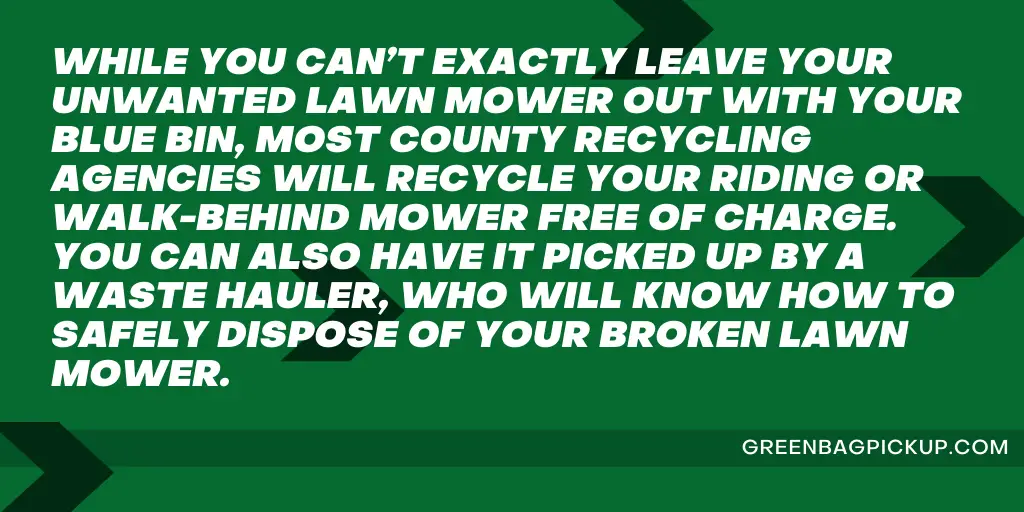 While you can't exactly leave your unwanted lawn mower out with your blue bin, most county recycling agencies will recycle your riding or walk-behind mower free of charge. You can also have it picked up by a waste hauler, who will know how to safely dispose of your broken lawn mower.
Tools Official tells us more about why you should consider having your lawn mower picked up by a waste hauler:

"If your location or area allows you to manage your lawn mower disposal by having it picked up by someone, then, this is the easiest way you can do. Having someone to pick up your old mower is the most time-efficient way to get rid of it, especially if you're busy and if you have the resources or budget to do so."
Sell your lawn mower
You may be able to sell your old lawn mower, whether it's broken or not. If the engine still runs, selling your lawn mower for parts may be an option, or you can even sell it for scrap at your local junkyard. And if your lawn mower is still in working condition, selling it online is a great way to get it taken off your hands.
LoadUp tells us more about the best ways to sell your lawn mower:

"Many people will buy old or broken lawn mowers at yard sales for cheap to later fix and resell. If you're looking to get a little more for that old mower, a yard sale might not be the best bet. Another option for selling your old lawn mower is listing it online. There are some great apps you can use, including LetGo, eBay, Facebook Marketplace, OfferUp, and Carousell. You can also list your old mower for sale on sites like Craigslist."
Give it away
If your lawn mower is still in working condition, your local charity may be willing to accept it. Lawn mowers are expensive, and your no longer needed model may be able to help someone in need. 
Hunker.com explains how to prepare your lawn mower for donation:

"Some charities accept working lawn mowers in good condition to sell and use the proceeds to fund programs within the organization. If you plan to donate your mower, check with the charity to see what condition it requires it to be in. Most expect it to be washed and ready for the new owner to use. Drain the gas before you donate it. It may be several weeks before the mower sells and stale gasoline makes an engine hard to start."
We offer a wide variety of waste disposal options, including how to correctly dispose of an unneeded lawn mower, with services readily available online. Reach out to us to see what we can offer you.
Amazon and the Amazon logo are trademarks of Amazon.com, Inc, or its affiliates.