As an Amazon Associate I earn from qualifying purchases.
Garbage disposals grind up solid food waste and eliminate unpleasant odors from your trash can.
The average cost to install garbage disposal is $400, but it can range from $150-$950. A garbage disposal unit can cost anywhere from $55 to over $500, depending on its size. Other expenses include the unit's price, expert labor, and the need for a grounded outlet installation.
Average Cost to Replace a Garbage Disposal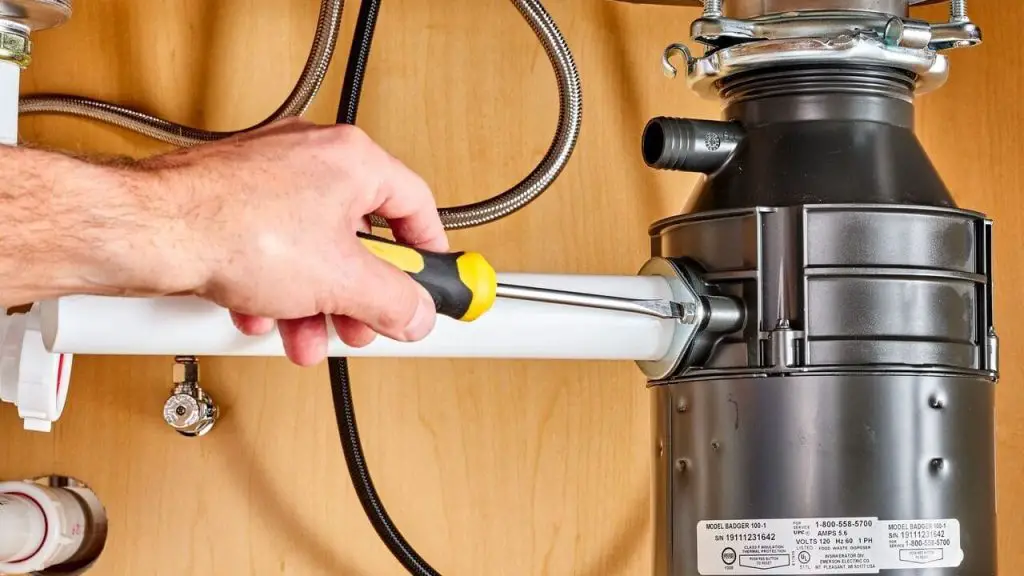 On average, the cost of replacing a garbage disposal is $400. The price is similar to installing new disposal minus any additional wiring that should already be there.
"Swapping out an existing disposal for a new one is straightforward," according to Andy Kilborn, Angi Expert Review Board member and owner of Andy's Handyman. "If you need to add electrical, the difficulty and expense will dramatically increase.

Factors for Determining Garbage Disposal Installation Cost
Numerous variables influence the price of installing garbage disposals. One of the most significant elements determining the end installation cost is the unit's size and the type of material used to build it. Labor costs, plumbing adjustments, and new electrical outlet installations affect pricing.
When replacing waste disposal, homeowners may use the following factors to guide their final cost.
1. Unit Material
The material of a garbage disposal unit has a significant impact on the price. The two most popular materials used in garbage disposals are aluminum and stainless steel. Both are available in continuous- and batch-feed versions and various sizes.
Aluminum disposals are priced between $75 and $300. In addition, they are susceptible to corrosion and leaks. Stainless steel disposals cost between $400 and $1,100. Because consumers believe stainless steel disposals are more expensive in the long run, they may be scared off by the higher price.
2. Unit Feed Type
Garbage disposals come in two distinct varieties. A typical continuous-feed type is the most frequent type. In most cases, it is controlled by a wall switch that runs when switched to "on." Garbage disposals with a continuous feed range from $75 to $1,100.
The second type of garbage disposal is batch-feed. With this design, the unit must be first loaded with waste before it will turn on. Compared to other models, this makes the unit safer for falling utensils and tiny hands; however, it takes a bit longer to process waste. A batch-feed disposal costs between $75 and $300.
3. Unit Brand
Garbage disposals from different manufacturers are identical; therefore, you can buy the best garbage disposals from various brands. In this way, homeowners can choose from a variety of options in a variety of price ranges. Waste King has units as low as $75 and as expensive as $400, while Moen has products ranging between $80 and $300. InSinkErator's prices range from $100 to $200, whereas Moen's does not.
4. Motor Size
The size of the motor is a major factor in the price of garbage disposals. Garbage disposals come in all sizes, from tiny ones for single households to extra large ones meant for commercial kitchens. To avoid overpaying or stressing out a small motor, homeowners should buy a unit proportionate to their household size.
Garbage disposal with a 1- horsepower motor, which costs between $200 and $500, is required for a one- or two-person household, whereas a 5- to 8-person house would benefit from a 3/3 horsepower garbage disposer that costs between $300 and $800.
5. Labor
Replacing an existing unit is a straightforward process that involves disconnecting and removing the old unit, leveling and securing the new one, and connecting it to the power supply. Once testing is complete, the job is done. As a result, a labor fee that covers basic costs will be charged. However, suppose you have a garbage disposal installed for the first time.
In that case, pipes may need to be shortened, or you may need an outlet installed – both of which will require additional labor hours and thus lead to higher labor costs on average, between $50-$200 in addition to what you'll pay for the disposal unit itself and materials used during installation.
6. Geographic Location
The labor cost for a garbage disposal installer varies based on geographic location. The national average cost is $75 per hour, while San Francisco, California's average install cost is $140. In Washington, D.C., the same job would cost as much as $250, while it would only be $125 in Chattanooga, Tennessee.
7. Electrical Work
Garbage disposal needs an electrical outlet with the ground. A new garbage disposal installation may necessitate the installation of a new outlet, which can raise the overall price. Installing a new grounded outlet costs between $120 and $165.
If an existing outlet (for example, for a dishwasher) is used, you may use the same outlet to run disposal if both devices do not exceed the circuit capacity. If a new outlet is required, homeowners should keep in mind that only an expert electrician should install a new one.
Additional Costs
Although garbage disposals make life much easier by taking care of food scraps and protecting plumbing, they don't last forever. So, when it comes to replacing yours, how much does it cost? Below are a few more factors that homeowners should consider when estimating the replacement cost for their garbage disposal.
1. Repair vs. Replacement
While repairing garbage disposal may cost less upfront regarding materials, remember that other issues could be discovered during the repair process, making it more expensive than simply replacing the unit. Garbage units have a finite lifespan and eventually need to be replaced- so it may be wiser from both a financial and efficiency standpoint to replace an old unit rather than try to repair it.2.
2. Old Unit Removal
If a contractor has to remove an old unit that isn't easily accessible or severely corroded, the job could be more difficult, resulting in higher labor costs.
3. Outlet Installation 
The outlet beneath most sinks can power a dishwasher and garbage disposal; however, running both together could cause a fuse to blow. If the power required for the disposal unit is too high, an additional outlet will be necessary.
If there are no outlets, you must install an outlet before proceeding with any installation. That said, installing garbage disposal usually costs between $120 and $165.
Installing a Garbage Disposal Yourself vs. Hiring a Professional
Installing a garbage disposal is straightforward and may save you $90 to $250 in labor charges. Hiring a professional plumber near you or a local handyperson, on the other hand, eliminates the danger of incorrect installation, which can result in water and food waste leaking into your house. Depending on your location, the average cost to hire a plumber ranges from $45-$200/hour. 
To compare, the average cost to hire a handyperson is only $55-$75/hour. If you're feeling extra daring, some local garbage disposal installers may be willing to complete the task – but check with references first! Also, remember that if any electrical rewiring is necessary for your project, it's always safest (and legally required in some states) to have a professional electrician take care of the wiring instead of attempting it yourself.
Want to Purchase a Garbage Disposal Installation Kit?
Garbage Disposal is the best disposer brand in the United States. Their disposers, constructed with sturdy components capable of handling even the toughest food waste, are perfect for any size kitchen. 
If you're looking for an easy and effective way to install a garbage disposal in your kitchen, the PF WaterWorks PF0989 Garbage Disposal Installation Kit is a great option. This installation kit includes everything you need to get the job done quickly and easily, including a flexible discharge tube, a slip joint nut and washer, and a dishwasher discharge elbow.
INCLUDES EVERYTHING YOU NEED TO INSTALL A GARBAGE DISPOSAL
EASY INSTALL – Quick and Simple Installation.
DO IT YOURSELF – Fro Wall Water Supply and Drain
1-1/2″ (inch) OD PP Construction
POLYPROPELENE COMPONENTS
Final Thoughts
The average cost to install garbage disposal is $90 to $250. The cost will depend on the type of disposal you choose, the size of your kitchen, and whether or not you need to hire a professional.
If you're feeling extra daring, some local garbage disposal installers may be willing to complete the task – but check with references first! Also, remember that if any electrical rewiring is necessary for your project, it's always safest (and legally required in some states) to have a professional electrician take care of the wiring instead of attempting it yourself.
FAQs
How long does it take to install a garbage disposal?
Installing new garbage disposal takes between two and four hours, for a professional plumber. Measurements are taken to position the disposer, pipes are unclogged, the disposer is installed, and the system is reconnected.
Is it hard to install a garbage disposal?
A garbage disposal replacement is a simple project for an experienced DIYer. Get a few basic tools and follow the guidelines to learn how to replace a garbage disposal.
Who should install a garbage disposal?
Plumbers will be the most successful in resolving your garbage disposal problem. A plumber likely installed your garbage disposal system and has the knowledge to address most problems, even electrical difficulties.
How long do garbage disposals last?
If it's been more than 10 years since your last renovation or garbage disposal installation, you should strongly consider replacing your current one. Most disposals' life expectancy is approximately 10 years, after which they may become clogged more often.
Additional Contents
Amazon and the Amazon logo are trademarks of Amazon.com, Inc, or its affiliates.