As an Amazon Associate I earn from qualifying purchases.
You may find yourself doing renovations or cleaning up your home. This can leave you with large amounts of waste, and organizing where it'll be thrown out.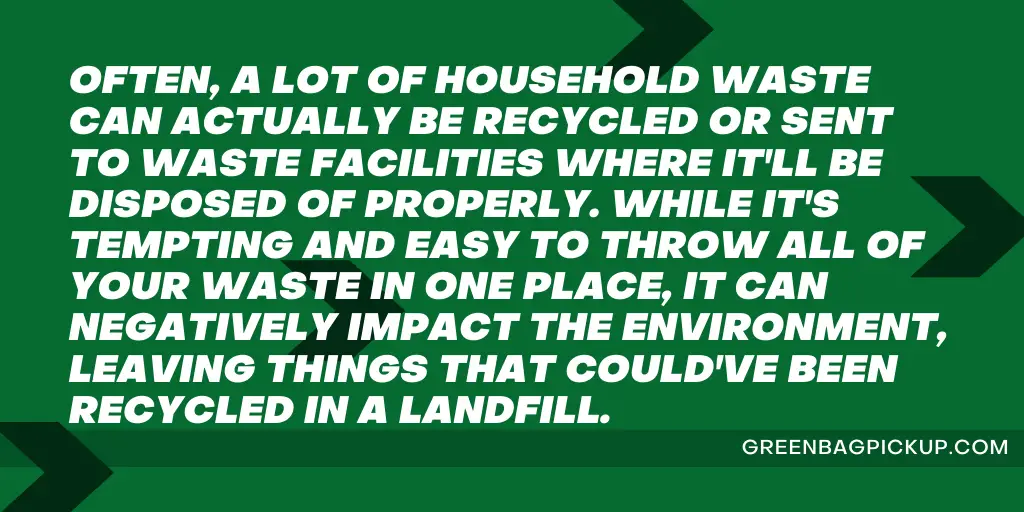 Often, a lot of household waste can actually be recycled or sent to waste facilities where it'll be disposed of properly. While it's tempting and easy to throw all of your waste in one place, it can negatively impact the environment, leaving things that could've been recycled in a landfill. 
If you're looking for eco-friendly waste alternatives, here are some easy ways to dispose of your trash. 
How to Prepare Your Waste for Pick-Up Services
The type and size of waste you have is a big factor in choosing a waste pick-up service. If you have a large amount of waste to get rid of, it's best recommended to use a pick-up service. 
For example, if you're renovating your house, you may end up with a huge amount of waste. This could come from building supplies, old furniture, or old hardware that you need to get rid of. This kind of waste can't be thrown all in one bag. 
An eco-friendly way of disposing of this waste is by finding a pick-up service. These waste services come to your house and take everything out for you, or pick up everything from your curb or garage. 
Digital Journal explains how waste pick-up services work: 

"Customers who want help in cleaning can book an appointment and a waste management team will come and assess the cost of removing waste. These professionals use specialized equipment to remove any unwanted furniture or parts from the home or garage."
Contact Your Municipality for Waste Disposal
If you're looking for ways to throw out large amounts of waste, it's also important to keep in mind where everything is going to go after it leaves your home. When thinking of where to dispose of things, organize them intentionally. 
If you're throwing out a large amount of paper or wood products, can any of it be recycled? If there are electronics you're getting rid of, can they be donated or sold for parts? 
Even if you don't know the answers to these questions, they can be easily solved through your local waste management facility. Every town and state offer services online that'll tell you if certain materials are recyclable, compostable, or can be dropped off at waste management facilities. 
Home Advisor recommends making sure you know what you're throwing out before calling waste removal services:

"Many companies take just about anything, while others have restrictions on paints, solvents, batteries, and other hazardous materials. Think about what you're tossing before you book, and expect hazardous materials to limit your service options and/or to affect the cost of the job."
Check Out Online Resources
Luckily, there are tons of resources available online that can help you get rid of your waste. For example, here at GreenBagPickup, we offer resources and links for purchasing dumpster bags for a do-it-yourself option to throw out your waste. 
We also have a comprehensive guide to renting a dumpster if you're looking to get rid of a large amount of waste in your home. 
Compactor Management Company says that getting rid of your waste is incredibly important to live a clean, healthy life at home:

"Extensive use of new or unnecessary products is the root cause of unchecked waste formation. The rapid population growth makes it imperative to use secondhand products or judiciously use the existing ones because if not, there is a potential risk of people succumbing to the ill effects of toxic wastes."

We offer a wide variety of waste disposal options, with services readily available online. Reach out to us to see what we can offer you.
Amazon and the Amazon logo are trademarks of Amazon.com, Inc, or its affiliates.