As an Amazon Associate I earn from qualifying purchases.
It is that time of year again when the snow starts to fall and accumulate on rooftops. Like most homeowners, you don't want the hassle or danger of having to climb up on your roof and remove the snow yourself. That's why it's important to have the best roof snow removal tools at your place!
This blog post will discuss the best roof snow removal tools for safely and efficiently removing snow from your roof. Stay warm and safe this winter with the help of these tools!
Best Roof Snow Removal Tools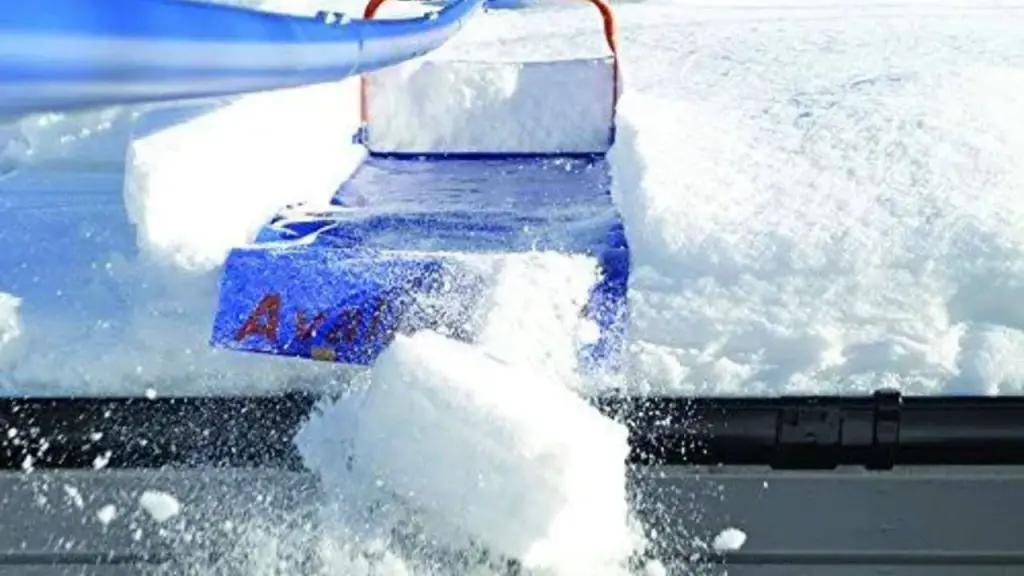 1. True Temper Telescoping Snow Roof Rake
The True Temper Telescoping Snow Roof Rake has a push-button telescoping design that extends the pole up to 17 feet for easy access to one-story roofs, then collapses it down to about 7 feet for storage after the task is done. It weighs just 4 pounds, so users can hoist it over their heads and control the rake's movement.
If a user's home maintenance requires the removal of great amounts of snow they will appreciate the lightweight aluminum True Temper roof rake's nonslip handle, which makes it simple to lift and maneuver. It has a 24-inch-wide poly blade that can draw down significant snow quantities in a single pull.
2. Telescoping Snow Shovel Roof Rake
For individuals who live in regions with frequent heavy snowfall, invest in this low-cost Telescoping Snow Shovel Roof Rake since it has a huge, 25-inch rake head to assist with snow removal. In addition to the big rake head, this product can reach lengths of 6.2 feet and 21 feet, allowing users to have an amazing reach while standing on the ground.
The snow rake is made with a hollow aluminum shaft and polyethylene rake head, weighing 4.8 pounds. Just keep in mind that excess weight can damage hollow aluminum by denting, bending, or crushing it; polyethylene is also susceptible to cracking or chipping under stress.
IDEAL: For removing snow, wet leaves and debris from roofs without climbing
ADJUSTABLE: Twist-n-Lock telescoping pole quickly adjusts to 21 ft. for extended reach
ULTRA-LIGHTWEIGHT: Only 4.8 lbs. for easy handling
LARGE RAKE HEAD: Oversized poly blade rake head measures 6 in. x 25 in. for maximum clearing
3. Extendable Aluminum Snow Rake
If you have difficulty storing equipment, Extendable Aluminum Snow Rake is the best solution, a product by Gymax. This model only measures 5 feet in length when disassembled but can extend up to 20 feet by adding 5-foot extension poles, allowing users to remove snow without issue.
The roof rake has an aluminum shaft and head, so users don't need to worry about the tool getting damaged during use. It also comes with built-in wheels to help protect the shingles from being scratched by the hard, aluminum rake blade.
This roof rake is both durable and lightweight, weighing only 4 pounds. However, remember that adding and removing each five-foot extension piece takes a bit longer.
Extra-long Adjustable Handle: This roof snow rake has a long extendable handle (3 adjustable knobs on the pole), which makes it suitable for people of different heights. And the length of it can be adjusted between 5 to 20 feet, reaching every corner of your roof.
Large Blade & Two Rollers: The two unique snowflake rollers minimize the damage to the roof. These two small rollers keep a small gap between the aluminum blade and the roof when you use it, so you don't have to worry that this metal blade will scratch your roof.
Premium Materials & Firm Structure: Made of high-quality aluminum materials, our roof rake is durable enough that can be used for a long time. The support rods form a firm triangular structure between the blade and the main tube, ensuring better stability of the snow rake.
4. SNOWPEELER Roof Snow Removal Tool
If you live in a region with a lot of snow, get the sturdy SNOWPEELER Roof Snow Removal Tool, 18-inch aluminum rake head with built-in stabilizing braces on the SNOWPEELER roof can easily pull even packed snow down from the roof. An aluminum shaft and rake head make this a heavy-duty snow shovel for dealing with deep or tough snow. The roof rake may be extended from 5 feet to 20 feet in length utilizing the four supplied 5-foot extension poles.
The SNOWPEELER has a slide attachment that allows the snow to glide smoothly down and off your roof. With this, you save time and energy because you don't need to pull an entire load of snow over the edge. Although, keep in mind that the weight of the rake may make you feel more tired than if you were using a lighter tool.
MAKE ROOF SNOW REMOVAL EASY & FAST: Keep both feet on the ground as no ladder is required ; With a simple easy motion the blade cuts the snow that slides off onto the slide
ADJUSTABLE 20 FT. REACH SNOW SHOVEL FOR ROOF: Sectional handle lets you add extensions as need ; Includes (4) 5 ft. poles with easy quick-snap connectors ; Ideal for single storey homes, cabins & detached garages
PROTECT YOUR ROOF & PREVENT ICE DAMS: Practical & cost-effective solution to protect your roof against the snow loads that create ice dams ; Designed with protective glide pads to ensure your roof won't be damaged
5. Extreme Max 5600
When the snow begins to accumulate on the roof and ice forms in the gutter system, it's clear that snow removal is required to avoid ice dams, but basic roof rakes may cause damage to the shingles. Invest in this Extreme Max 5600 with built-in wheels so you can remove the snow without damaging your roof.
Rather than allowing the extension poles to slide out of the shaft, each extension piece has to be manually inserted. The aluminum shaft is strong and lightweight, weighing just 5.75 pounds when the entire tool is included. While that isn't the lightest roof rake on the market, it isn't so heavy that it would cause user fatigue.
Angled blade offers more use in less space and is effective on low-pitched roofs and two-story houses
21′ reach with 7″ x 24″ blade provides superior snow removal
Blade rollers protect your shingles while still providing a close shave
Lightweight aluminum makes it easy to maneuver and protects against wear and tear
Easy snap-button handle assembly and disassembly
6. Avalanche! Snow Roof Rake
To clean a flat roof correctly, you need a rake with a shaft that's not entirely straight. The rod needs to be angled to bend over the roof's edge. At the same time, remaining flush against the surface. Avalanche! designed their rake specifically for this purpose, using an angled connector piece that attaches to the aluminum shaft and extension bars. It provides unrestricted access to flat roofs on trailers, RVs, sheds, etc.
The roof rake extends to a maximum length of 16 feet with each extension bar, which is about 4 feet long. It is also important to remember that each component must be manually added instead of sliding into the shaft and locking into place. This aluminum rake head weighs approximately eight pounds and has built-in wheels to prevent the shingles from being damaged.
TRADITIONAL SNOW ROOF RAKE DESIGNED SPECIFICALLY FOR FLAT ROOFS: Trucks, Trailers, RV's and Other Flat Rooftops. Prevents damage to your rooftop with the built-in 1.5 inch wheels.
NO TOOLS REQUIRED – JUST SNAP PARTS TOGETHER AND WATCH SNOW SLIDE OFF YOUR ROOF: Snap together assembly is fast and efficient so that you can start removing snow from your roof right away. Easy to store and use year after year.
LIGHTWEIGHT SNOW ROOF RAKE REMOVES HEAVY SNOW FROM ROOF AND IS EASY TO USE: Avalanche! Snow Roof Rake Systems are lightweight at roughly 8 pounds, and are designed for anyone with a FLAT ROOF to use.
7. Snow Roof Rake Premium 1000
The Snow Roof Rake Premium 1000 has a retractable plastic slide to increase efficiency. The snow is removed from the roof and carried down the slide, saving time and effort for the users. It also has wheels to protect the top from damage. The rake's length increases from 4 to 16 feet when you attach each of the extension bars made from fiberglass. Though this process takes some time, you'll eventually save more time with the plastic slide.
The head-on of this model is made of stainless steel, which is more durable than polyethylene or aluminum but also more vulnerable to rusting and corrosion. Also, at 11 pounds, it's one of the heavier models available, so you may want to take breaks often while using it.
PRODUCT IS THE COMPLETE AVALANCHE! ORIGINAL 500 MODEL WITH ADDED: "Deluxe 20 Standard Rake Head with wheels" AND "Adapter" to fit the rake head into our blue fiberglass Avalanche poles.
Enjoy all the same benefits as listed for the Avalanche! Original 500 such as: NO TOOLS NEEDED – easy snap together assembly, LIGHTWEIGHT – approximately 10 pounds, PROUDLY MADE IN USA, and LESS TIME AND LESS STRENUOUS than standard snow roof rakes!
The included Adapter and the Snow Rake Deluxe head with wheels allow you to covert the Avalanche! Original 500 into a standard snow rake. Both "heads" have 1.5 inch wheels to gently and safely remove heavy snow from your roof while protecting your standard asphalt shingled roofs.
8. Poly Blade Snow Roof Rake
The Poly Blade Snow Roof Rake costs less than most competing roof rakes while still providing great performance and preventing ice dams from clogging the gutters. It might be overkill if the area only receives a few inches of snow now and then. However, the 15-foot Garant roof rake's extraordinary length will be appreciated by users who frequently need to remove huge snow deposits from their roofs.
The polyethylene rake head is 24 inches wide, and the shaft of the roof rake is made of ultra-light aluminum, making it easy to lift and maneuver. This product weighs just 4.8 pounds and also comes with an anti-slip grip to prevent the user's hands or gloves from sliding off the tool while it's in use.
24-inch blade
Polyethylene blade wont damage roof top
Wide angled head for easy snow removal
3 sections of 5-feet ultra-light aluminum handles
Anti-slip grip
9. Avalanche! Traditional Snow Roof Rake
The Avalanche! Traditional Snow Roof Rake has a 24-inch polyethylene rake head and a 7-pound weight and is great for removing light snow. Connect the five 4-foot extension poles to form a 20-foot aluminum shaft to utilize this tool. Adding or removing the five extension shafts requires more time than simply snapping them together.
The base of the Avalanche! Rake has orange wheels to prevent shingles from being damaged when snow is removed. It also has a nonslip handle grip for enhanced control of the rake. This rake has a wall-mounted storage bracket for easy storage after the day's work is done; the shaft can be disassembled for easy storage.
How To Choose The Best Roof Snow Removal Tools
Roof rakes are snow removal equipment that can remove snow from the top floor of a home without having to climb a ladder or go on the ground. With this in mind, roof rakes were investigated extensively to compile this list of the finest roof rakes. The length, weight, material construction, and additional features enhanced the tool's usefulness, such as an extendable reach, built-in slide, or wheels.
The criterion for selecting a roof rake included the tool's length and how comfortable it was to use. The product had to be lightweight so that whoever was using it could hold it above the head and easily control its strokes. Priority went towards products made with high-quality materials and any additional features that would make one roof rake better than another similar product on the market.
Tips to Use a Roof Rake
Starting at the edge and raking inward is the best way to rake snow off your roof. If you try to extend the roof rake as far as possible and pull down any snow trapped within that range, there's a good chance you won't be able to move the snow. Also, remember that even if the snow shifts, it isn't a good idea to remove that much snow all at once because the weight of the snow might harm you or someone nearby.
While the goal of snow removal on a driveway is to remove any snow or ice that might cause the automobile to skid, you don't have to rake every inch of snow off the roof. Leaving one or two inches of snowfall isn't cause ice dams to form, and this gap can assist in safeguarding the shingles from being scratched during raking.
Additionally, you should never try to climb a ladder or walk on a sloped roof in winter weather simply for snow removal. The whole idea of a roof rake is for the user to remain on the ground, so don't attempt to rake the roof while perched on a ladder.
Look at the roof from the edge and then work your way toward the middle.
The top doesn't have to be empty.
Do not attempt to climb a ladder or sloped roof in winter conditions.
The Bottom Line
Here is the list of best roof snow removal tools for any homeowner in an area that experiences regular snowfall during the winter months. Removing the snow from your roof can help prevent ice dams from forming and damaging your home. With so many different types and sizes of roof rakes available on the market, there's sure to be one that's perfect.
FAQs
Can you use a snow shovel on the roof?
It's dangerous to climb on your roof and attempt to shovel off the snow by yourself. You could easily slip, fall, and severely hurt yourself.
What do you use for snow removal?
You can make snow removal much easier by using a canvas painting drop cloth or plastic tarp. Cover your car, porch steps, or walkways with the fabric before the snow falls.
Additional Contents
Amazon and the Amazon logo are trademarks of Amazon.com, Inc, or its affiliates.