As an Amazon Associate I earn from qualifying purchases.
Many businesses rely on pallets to safely store their products, as they can be effortlessly maneuvered with the help of a forklift, pallet jack, or front loader.
Furthermore, strapping or stretch wrap usually secures goods and shipping containers. Pallets come in various sizes and materials, such as wood, plastic, paper, or metal – some are even made from recycled components!
Pallets are often used to wrap and transport multiple items. Unfortunately, they usually end up in the trash after a single use.
Fortunately, some processors specialize in reusing and recycling pallets instead of throwing them away.
Businesses and institutions recycle pallets in this economy where every penny counts, businesses and institutions recycle pallets because it helps save on garbage disposal costs. 
Not only does recycling conserve natural resources and reduce pollution from producing new materials, but it also creates jobs.
When dealing with pallets, every effort should be made to reuse them whenever possible; vendors typically take back their old pallets after delivery, or companies can accept, repair, and resell used ones.
Smaller businesses that don't need the extra cost of purchasing new pallets could offer gently-used ones to employees in a designated area or post them on an online material exchange board.
If the condition no longer allows for reuse, ensure those are recycled properly instead!
So read on and learn how to recycle wooden pallets and turn your old pallets into something both eco-friendly and practical!
Ways to Recycle Wooden Pallets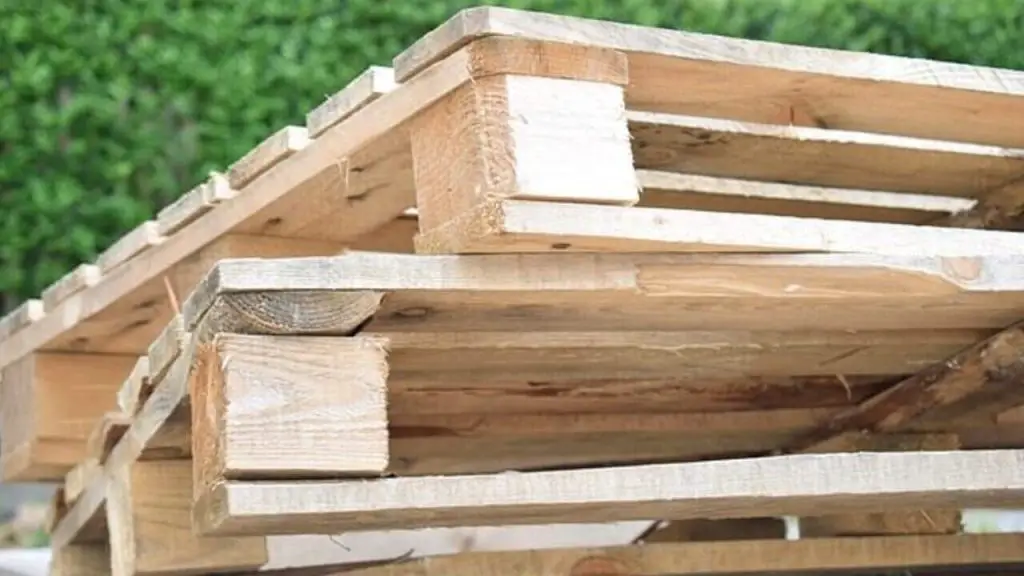 Use Them to Make a Rustic Coffee Table or Side Table
Sprucing up your living room with a rustic coffee or side table is an ideal way of introducing a homely, inviting look to the interior of your space.
Plus, you can spend little if you opt for the DIY route. This can be achieved with reclaimed pieces of wood such as planks, cut-offs, or even shipping pallets.
With basic tools, sanding, and painting, you can easily transform these raw woods into something unique and chic! You can also add wheels for mobility or casters for adjustable height purposes.
It not only declutters any area but is sure to draw attention to your space.
Sand Them Down and Refinish them for a More Polished Look
Refinishing furniture can be a great way to breathe new life into beloved pieces of furniture. The process requires basic tools like sandpaper but yields professional-looking results. Sanding down wooden furniture is the first step and can be a therapeutic experience.
Removing the existing finish and any stresses accumulated over years of use leaves you with a fresh canvas ready for a new look.
Furniture refinishing is an easy and cost-effective way to update your home's décor — you don't have to buy expensive new pieces, just refinished ones!
Upcycle Them Into a Vertical Garden Perfect for Small Spaces
Got wooden pallets lying around? Don't let them collect dust! Upcycling them into a vertical garden is the perfect way to bring some life and vibrancy to any small space.
Not only are they an aesthetically pleasing way to liven up your living area, but providing food for yourself or others is a great way to inject functionality and compassion into the mix. 
Not all of us can have a big backyard – vertical gardens allow us to become more self-sufficient from a smaller footprint.
Plus, creating something from repurposed materials leaves you with pride and accomplishment, knowing that you've done something useful and environmentally friendly simultaneously!
Use Them as Planks to Create a DIY Headboard
Old wooden doors may be too short to fit in a doorway, but their usefulness is still ongoing. These unique planks of wood can be used to make a DIY headboard that will enhance the look and feel of your bedroom.
With the right tools and some creativity, even those with limited carpentry experience can enjoy building an attractive piece of furniture. Beautiful paint colors and finishes will make it stand out, making your bed look extra special.
Not only that, but construction from durable, already-existing materials ensures that this homemade headboard is made to last.
Get Creative and Use Your Imagination 
Imagination is often treated as a secondary form of creativity because it isn't tangible and doesn't always require physical effort to manifest.
But with imagination, truly creative projects are possible. The beauty of using one's images is that there are no boundaries. You can create anything you like or push yourself to develop ideas that have never been seen before.
An imaginative mind can be incredibly powerful, so don't be afraid to explore the limitless possibilities in your unique way.
Exercising your imagination can lift your creativity to extraordinary heights and help you find fulfillment in crafting something original and beautiful.
Whatever your style or vision for your home, reclaimed pallets can be a great way to add character and personality to your space.
With some elbow grease, you can turn these cast-offs into truly one-of-a-kind pieces that will make your house a home. So get out there and start shopping. Those perfect pallets await you!
The Bottom Line
Reclaimed pallets are a great way to add character and personality to your home. Cleaning, sanding, refinishing, and repurposing wooden pallets can create unique furniture and décor to make your house feel like a home.
They're a cost-effective, eco-friendly option that allows you to enjoy crafting something beautiful.
So get out there, let your imagination run wild, and start shopping for those perfect pallets. You can transform these cast-offs into something special with effort and creativity!
FAQs
Can you make money flipping pallets?
You can generate revenue by flipping wooden pallets and offering them in numerous settings.
If you are selling smaller products that can be quickly packaged, shipped out cheaply, and delivered at low cost to the buyer, you can reach more customers than ever before – from around the globe!
Can I burn pallet wood in my fireplace?
Although pallets can typically be burned in fireplaces, using those treated with methyl bromide fumigants is unsafe.
Additionally, remember that these materials may have been exposed to many chemicals while they were being used before disposal.
Additional Contents
Amazon and the Amazon logo are trademarks of Amazon.com, Inc, or its affiliates.