As an Amazon Associate I earn from qualifying purchases.
There are many types of recycling bins on the market these days, and it cannot be easy to decide which is best for your home.
We have compiled a list of the 10 best home recycling bins based on our experience and feedback from other consumers.
If you keep your recycling bin in sight in your kitchen or at least next to your trash can, you are more likely to recycle everything possible.
We have found an option for every budget among this array of options, from simple bins to high-tech receptacles.
Keep reading to learn more about each option and find the perfect recycling bin for your needs!
Best Recycle Bins For Home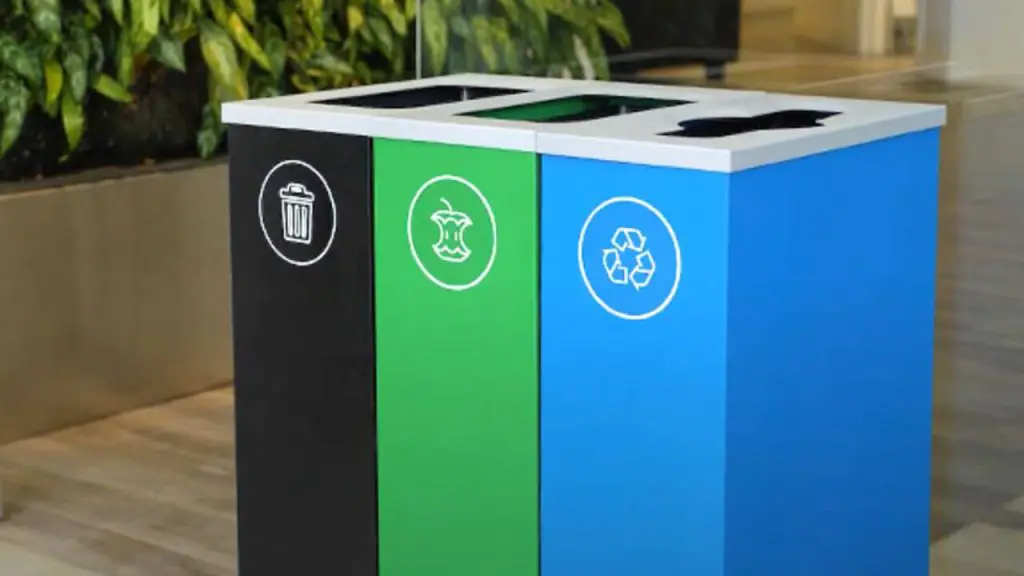 1. United Solutions Wastebasket
The United Solutions wastebasket is an excellent choice if you want a cheap, reliable indoor recycling bin that can be placed almost anywhere in your home. This 7-gallon container is perfect for empty spaces and cabinets because of its squared corners.
You can easily separate your recyclables via the two-compartment bin, and it even comes with built-in handles for easy transportation.
With a near-perfect 4.8-star rating from more than 3,000 reviewers, it's no wonder this product is so popular. It's washable, quick-drying, and durable, everything you need!
2. Rubbermaid Brute Recycling Bin
If you are looking for an outdoor recycling bin that can handle a lot at once, look no further than the Rubbermaid Brute.
It is made from commercial-grade plastic to withstand weather and wear and tear. It has a 20-gallon capacity, making it perfect for larger families or businesses.
This Rubbermaid container is both crack- and UV-resistant, plus it has special ridges and indentations that hold liners securely but allow for easy release.
It even has built-in handles. Since Rubbermaid is a well-established brand, you can purchase additional accessories like compatible lids or dollies with easy glide wheels to complement the container. 
3. Good Natured Handy Recycler
The Good Natured Handy Recycler is short and wide, making it perfect for shelves and cabinets. You can also stack them on top of each other if you purchase more than one.
It has a lowered lip and a built-in handle, so loading and unloading are easy. Its construction from 90% plant-based materials makes it eco-friendly, and being BPA plastic means it does not pollute.
4. Suncast Bins
Suncast bins are a great option if you want something that stacks and has a lid. They have earned an impressive 4.5-star rating from over 1,300 reviews.
The three-pack contains one green, one yellow, and one blue canister, so you can easily color-code your recyclables.
If you'd prefer, a two-pack option is available in either blue or green. These containers are versatile and perfect for indoor and outdoor use.
5. Hidden Recycler from Rubbermaid 
The Rubbermaid Hidden Recycler is a good seller: it is small, easy to access, and you can screw it directly into the cabinet or use over-the-door hooks for damage-free installation.
This dish rack stores easily under your kitchen counter without emptying the entire cabinet.
Save time and your back with this easily detachable, waterproof basket made from recycled materials. It even has a built-in handle!
6. Simpli-Magic Recycling Bin
If you're worried about your pets getting into your recycling or want something that's covered, the Simpli-Magic recycling bin is perfect for you.
With 9.6 gallons of space and a slim square shape, it will only take up a little room in your house. The swing-top, dual-action lid is easy to use; drop your bottles and cans in, and the lid automatically swings back into place.
When it's time to empty, The top easily comes off.
7. KELKIM Recycling Bags
If you live in certain areas, you must recycle items into different categories, such as glass, plastic, paper, and metal. KELKIM recycling bags are an incredible value and space-saver.
They come pre-labeled with built-in handles, fold up when not in use, and are made from polypropylene fabric instead of rigid, bulky plastic.
Polypropylene fabric is waterproof, lightweight, durable, and washable. The bags also have Velcro strips on the sides to connect them all.
8. Rev-A-Shelf Pull-Out Waste Containers
This easy-to-install kit contains a heavy-gauge wire frame that can support up to 100 pounds, allowing you to install rolling waste bins in almost any standard cabinet.
This plus two-bin set conveniently fits in your space and can be used for recycling, waste, or both. It's easily assembled with four screws to the cabinet floor and has a built-in handle for effortless pulling out. 
9. iTouchless Kitchen Bin
The iTouchless kitchen bin has a sleek stainless steel exterior, a silent-closing lid, and a no-touch pedal. The inner bucket pops out for easy emptying, plus an air damper and replaceable filter to absorb unpleasant odors.
The beauty of this trash can is that it comes in many shapes, sizes, and colors. You can also choose between having one or two buckets for recycling or garbage. 
10. Rubbermaid Slim Jim Bin
The Rubbermaid Slim Jim bin is ideal for those who need a large-capacity item that doesn't take up too much space. This recycling bin can hold 23 gallons of material, but it's less than 12 inches wide.
The brand's venting channels make for rapid liner removal, plus the four cinches hold the bag safely. Also, an optional trolley makes transporting from one place to another easier.
Things To Consider When Buying A Bin For Home
When shopping for the best recycling bins for your home, be sure to consider the following factors:
Capacity: The size of your bin depends on how much recycling you generate. Consider a larger one if you have more family members or create more waste.
Material: The material of your bin should be sturdy and durable enough to hold up well over time. Plastic or stainless steel is usually best.
Design: Choose a bin with thoughtful features such as detachable compartments, secure lids, or robust handles for easy use.
Location: Place your bin in an easily accessible area near the door or in the kitchen.
Price: Consider your budget and decide how much you want to spend. You can find bins that range from inexpensive to more costly options with additional features.
Aesthetic Appeal: You will want to pick something that looks good in your home and coordinates with the rest of your decor.
Lid Type: For best results, select a bin with a tight-fitting lid to keep out pests and odors.
Compartments: If you recycle a lot, consider buying a bin with multiple containers for different recyclables.
Durability: Ensure your bin is made from quality materials, so it can withstand daily use and whatever goes inside.
Ease of Use: Look for bins that are easy to open, close, empty, and keep clean.
Cost: It's best to compare prices and choose one that best fits your budget.
Extra Features
Any recycle bin equipped with a handle or multiple handles will likely be easier to lift. Some recycling bins include filters to neutralize odors.
Others offer built-in storage compartments that allow you to keep extra liners on hand yet neatly concealed within the canister.
If you are interested in a hands-free garbage can, more expensive models have smart technology that opens the lid with either a voice command or a hand gesture. Hands-free operation is not just convenient but also prevents the spread of germs.
A foot pedal requires some physical effort to operate but also allows for the hands-free opening of the lid.
These are just a few of the best recycle bins for home. By finding a bin that best meets your needs, you can make recycling at home a convenient, eco-friendly part of your lifestyle!
Benefits of Having a Recycle Bin at Home
Having the best recycle bin for a home makes it easier to keep recyclables out of the landfill and offers plenty of other benefits. Here are some of the advantages:
Reduces Waste: By separating recyclable materials from trash, you can significantly reduce how much waste goes into landfills and incinerators.
Saves Money: Reusing materials instead of buying new items can save you a lot of money in the long run.
Saves Resources: Recycle bins help conserve natural resources, such as water and energy, needed to create new products.
Promotes Sustainability: It reduces air and water pollution and supports sustainable practices that preserve our planet.
Improves Health: Recycle bins reduce exposure to toxins and other hazardous materials that can harm human health.
Keeps Space De-Clutter: Having the best recycle bins for your home can keep your space neat and tidy while reducing waste.
Best recycle bins for home are essential to becoming more sustainable and responsible when managing waste. With the right bin, you can make a huge difference in helping to protect the planet.
Investing in the best recycle bin for your home is an easy and effective way to start making changes that will benefit your wallet and the environment!
The Bottom Line
When it comes to the best recycle bins for the home, there are plenty of options. Whether you need a basic container or something more specialized, weigh your options carefully and choose one that best fits your needs and lifestyle.
You can make waste management simple and sustainable with the correct recycling bin!
FAQs
What are the three types of recycling bins based on colors?
The colors used for recycling and waste bins can depend on the business, though these are some of the more common hues: Blue signifies paper and cardboard. Green is for glass bottles and jars. Red typically stands for plastic bottles or packaging.
Are metal bins better than plastic?
Metal waste bins are better for busier locations because they're stronger than plastic bins.
Additional Contents
Amazon and the Amazon logo are trademarks of Amazon.com, Inc, or its affiliates.